Throughout the years, Jada Pinkett Smith has been transparent about her struggle with hair loss, going into great detail on social media and in "Red Table Talk."
On her Facebook programme on May 21, 2021, she said that it was "terrifying when it first started."
The actress' once-luscious locks "handful" broke out when she was taking a shower. Her "shaking with fear" was caused by the thought of losing her hair.
She gave an explanation for why she had been consistently shortening her hair. The actress's hair "has been a big part of" her, and tending to it is a "beautiful ritual." Pinkett Smith valued the option of having or not having hair.
She shared a video of her bald head near the end of 2021, displaying the alopecia-related scars on her scalp. She pointed to a long, naked line that was about an inch away from her hairline and made a joke about how it appeared as though she had 'brain surgery or something'.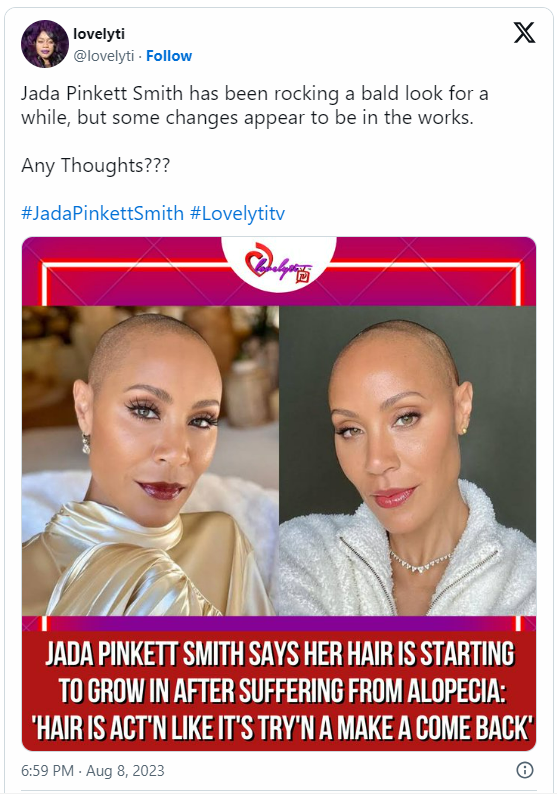 "This here hair is act'n like it's try'n a make a come back. Still have some trouble spots, but — we'll see✨," On Monday, Pinkett Smith shared updates regarding her hair, which is now making a comeback.
"Slide 1: Past," she said, pointing to a picture of herself with a bald head, donning a diamond necklace and a white teddy-cloth sweater. She titled a casual photo taken in a garden, "Slide 2: Present," referring to her pixie cut with peroxide on top.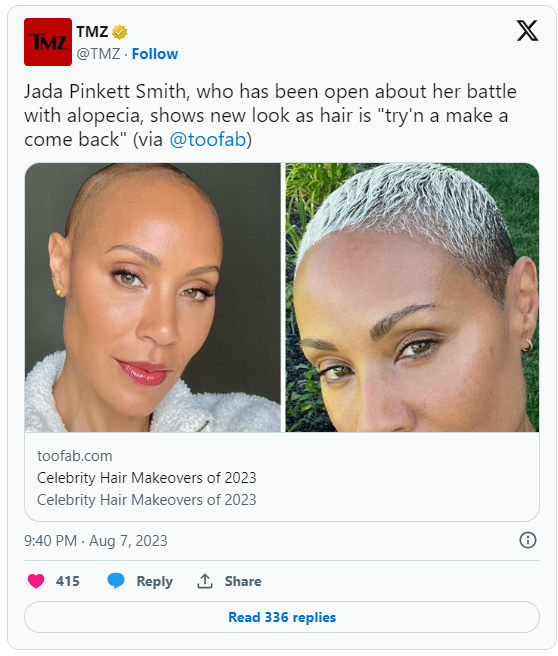 The Backlash against Jada Pinkett Smith Speaking about Her Alopecia
There has been a lot of discussion on the infamous smack Chris Rock received from her husband, Will Smith, when he made an offensive comment about her baldness at the 2022 Oscars. Chris Rock had previously produced a documentary about black women's hair.
Jada Pinkett Smith received some of the bad backlash since she made the topic of jokes in multiple posts prior to the award ceremony. She had laughed in response to Rock's remark that he was eager to see her in "G.I. Jane 2."
For instance, she shared a meme titled "How it started vs. how it's going" in the middle of 2021 that featured side-by-side images of her sporting a flowing mane and a shaven dome.
Jada Pinkett Smith has been wearing a bald look for a while, but some changes appear to be in the way, an X influencer tweeted about the star's hair growth update. Any suggestions?
"She never had alopecia. That was a buzz cut; you don't see stubble with alopecia," one thought. "She's a phony, lol," another commented, " I knew she was lyin' about her alopecia! Your hair (for the most part) grows back!"
Social media users responded similarly to a TMZ report on the "comeback" To be clear, she gave herself a diagnosis of alopecia. Someone said, "The whole family needs to leave.
"She lied about the 'alopecia,'" one insisted. "I don't believe she ever had alopecia. I could always tell is was just shaved down to the extreme," an X user said.