Divorce complicates everything, especially when children get involved. Things become more difficult when one partner finds new love. It gets entirely messy, for example, when the husband's new wife is significantly younger.
As a young woman named Jennifer prepared for her wedding, she knew things could get complicated because of her divorced parents.
Recently, her dad found a new wife around her age. To make it even worse, her new stepmom wanted to make her mother's life more difficult. 
Turns out, Jennifer's mom can hold her own. You have to hear her hilarious story of how she got revenge.
With her wedding day nearing, nothing could make Jennifer less excited. Although her parents' divorce stressed her out often, she cleared her mind of it for the big day.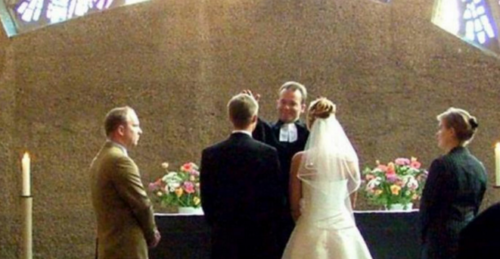 Her mom had a beautiful dress for her daughter's wedding. In fact, everything went very smoothly.
One week later, Jennifer shockingly found out her father's 25-year-old wife bought the exact same dress as her mother.
Clearly opposed to it, Jennifer asked her stepmom to return the dress. The young wife refused to get a new dress.
"NO WAY! I LOOK AMAZING IN THIS DRESS, AND I'M WEARING IT," SHE REPLIED. "YOUR MOTHER WILL HAVE TO CHANGE HERS."
Expecting her to be heartbroken, Jennifer broke the news to her mom. Instead of being angry, her mom responded in a way that stunned Jennifer.
"DON'T WORRY, DARLING. I'LL JUST FIND A NEW DRESS. IT'S YOUR SPECIAL DAY AND I WILL NOT LET THIS GET IN THE WAY,"HER MOTHER RESPONDED.
They set out to find another equally as beautiful dress. Just before the store closed, her mom found the perfect new dress.
After buying the dress, the two went out for dinner.
WHILE THEY WERE WAITING FOR THEIR MEAL, JENNIFER ASKED HER MOM, "WHEN DO YOU THINK YOU'LL RETURN THE OTHER DRESS? YOU DON'T REALLY HAVE ANOTHER REASON TO WEAR IT ANYTIME SOON." HER MOTHER RESPONDED, "OF COURSE I DO! I'M GOING TO WEAR IT FOR THE REHEARSAL DINNER THE NIGHT BEFORE YOUR WEDDING."
What sweet revenge! I guess the stepmother learned her lesson.
Please SHARE this story with your family and friends on Facebook!