Since it's graduation season, commencement speakers are frequently imparting sound advice.
However, one commencement speaker in particular gained notoriety for the address she gave to her students.
The valedictorian of Piedmont, South Carolina's Woodmont High School, Lydia Owens, bravely included her faith into her address. She began her speech by describing a challenge she faced and how she overcame it to get to where she was.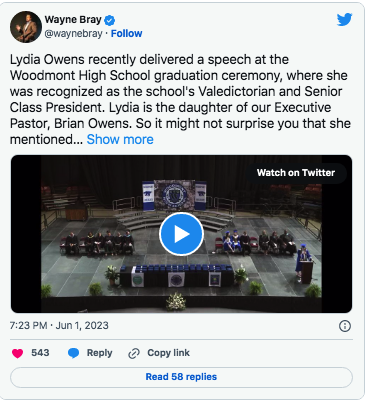 "You are so much more than how well you perform," she said. "If you place your identity in what you accomplish, and you believe you are only good enough if you succeed, what happens when you fail?" Owens questioned. "What happens when you don't have a lot of money or you don't have a lot of friends?"
Owens claimed that when her mother, whom she regarded as her best friend, passed away two years ago, she had a "reality check."
"When tragedy struck my life, it was not my grades or my accomplishments that helped me navigate through that loss."
"When everything else in my life felt uncertain the only person that I could depend on to stay the same was Jesus."
Owens explained to WHNS how her mother was her biggest inspiration and "always encouraged me in my faith."
"She's the reason that I have such a strong faith. She was the example of how to be a Godly woman and how to love people intentionally."
The teen went on to say that after losing her mother, her definition of success "drastically changed, because I realized the many years I spent placing my worth in my academics meant absolutely nothing in eternity."
Although Lydia's speech wasn't your standard valedictorian speech, I still thought it was fantastic! The definition of success and the amount of pressure we place on ourselves to succeed were seen from a new angle.