Despite being 77 years old, Dolly Parton has no intention of slowing down.
Her remarkable career is still very much alive today, and outside of the spotlight, she and her husband Carl lead a peaceful and quiet existence.
Dolly Parton just released a brand-new, previously unseen photo of the pair, and one particular element in it has admirers in fits of laughter.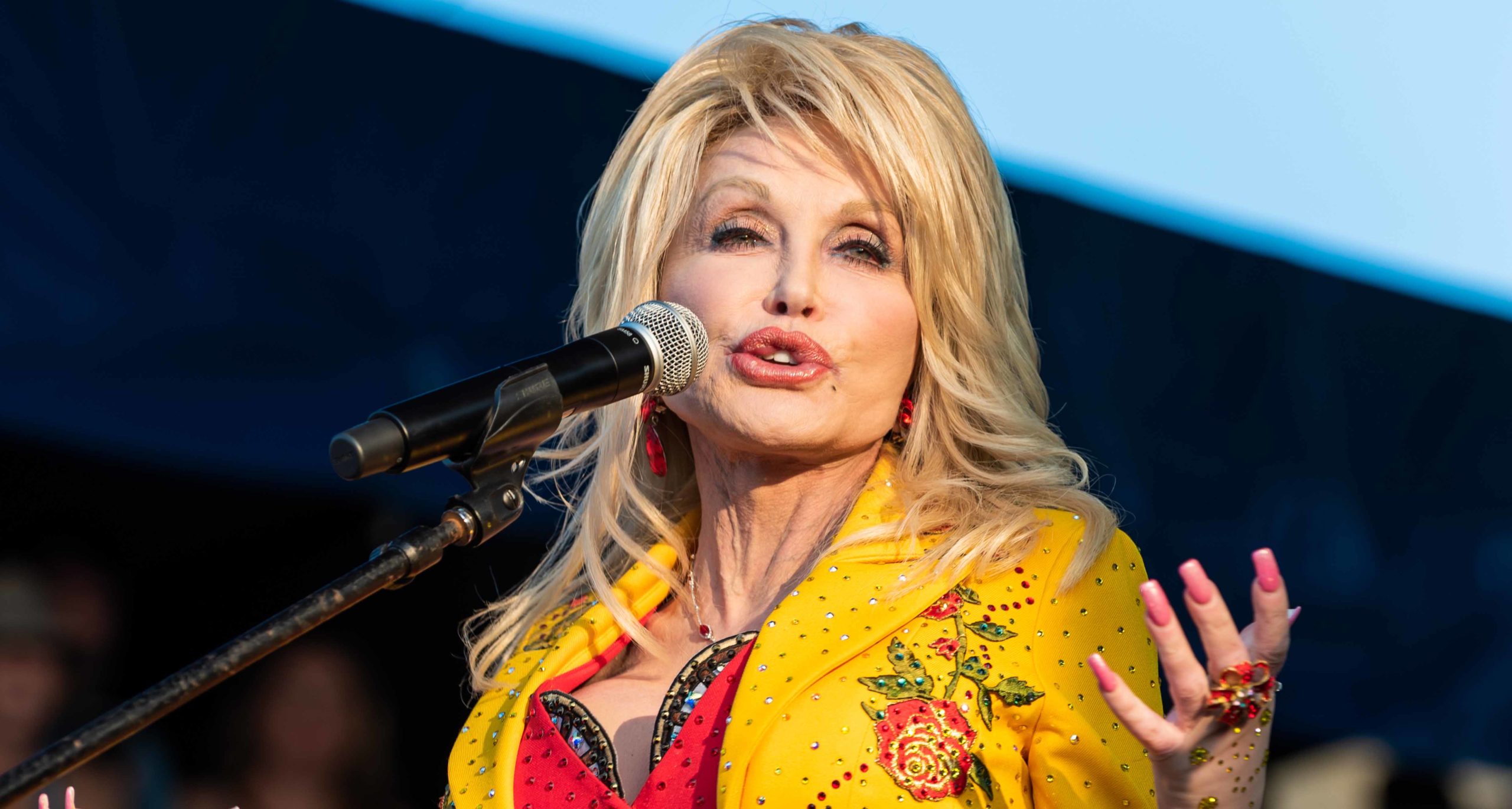 Dolly Parton has spent her entire life around music, and nothing seems to be able to stop her from doing what she truly loves.In the vicinity of the Great
Smoky Mountains in Locust Ridge, Tennessee, she was born on January 19, 1946. She was one of 12 children, therefore money was a big issue growing up for her.
However, her family began to congregate around music. Parton began learning more about music when she was a small child and performed in church with her mother, who also sang and played the guitar.
"Music was such a large part of our whole family," Parton recalled. "All of my mama's people were musical. They all played some sort of musical instrument. Of course, I took my music really seriously, and I was always plucking along on somebody's instrument — whatever they would leave lying around or whenever my family would come. But I always loved the guitar."
Her uncle gave Dolly Parton her own guitar. Soon after, she began to compose her own songs. In Knoxville, Tennessee, she had already performed on several local television and radio stations by the age of 10, and at the age of 13, she made her Grand Ole Opry debut. She was earning about $20 per week at the time.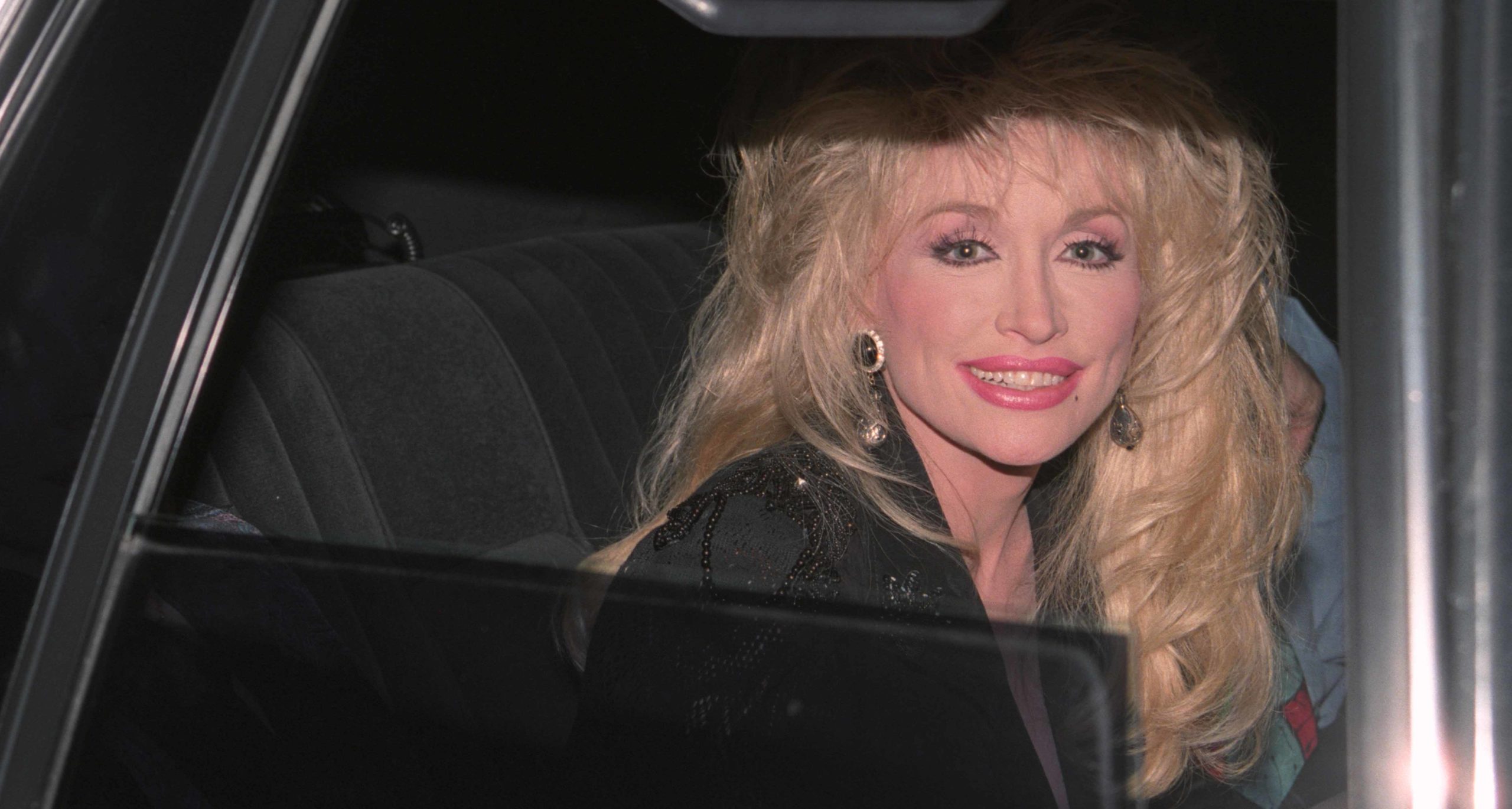 With the Partons, family and music went hand in hand, and her uncles were instrumental in assisting her in moving forward.
"I had two uncles who played — Uncle Bill, who helped me get into the business, and Uncle Lewis, who was also a great guitar player," she said. "He had this little Martin guitar that I loved, so when he saw how serious I was about my music, he gave me his little Martin guitar. It was my treasure."
Parton was the first person in her family to complete high school and receive a diploma. But in 1964, at the age of 18, she made the decision to give her singing career its full attention. Dolly Parton left her house and traveled to Nashville, the center of the country music industry.
"I had a dream," she said. "And I had a talent, I thought. And I really believed it was going to happen."
Dolly rose swiftly to fame in Nashville. On The Porter Wagoner Show, she collaborated with Porter Wagoner, and the pair quickly rose to fame. Parton and Wagoner collaborated on a number of country successes, and she soon signed a deal with RCA Records. Joshua, Parton's first No. 1 country single from 1971, was followed by a string of other singles. Jolene was, of course, one of them.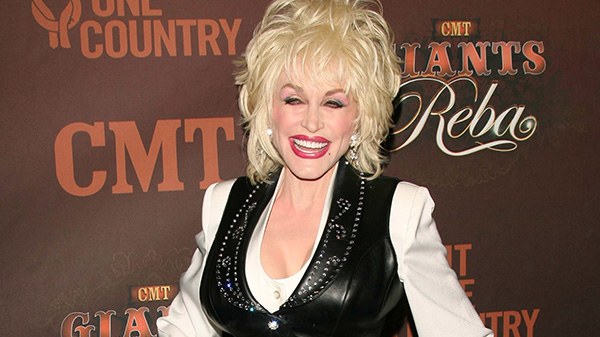 There are barely 200 words in the song. But it ended up being one of the 20th century's biggest hits. The song by Dolly Parton peaked at number one on the charts and received two Grammy nominations for Best Female Country Vocal Performance (both the studio and live versions).
Not only that but "Jolene" was ranked No. 217 on Rolling Stone magazine's list of "the 500 Greatest Songs of All Time," released in 2004.
With songs like "I Will Always Love You"—a homage to Wagoner and their working relationship—"The Seeker," "Love Is Like a Butterfly," and "All I Can Do," Dolly Parton racked up awards left and right and established herself as a true global celebrity.
With "Here You Come Again," she earned her first Grammy in 1977, and other songs soon followed.
Dolly Parton entered the movie industry in the 1980s and expanded her fan base. She co-starred with Jane Fonda in the 1980 comedy hit 9 to 5 and provided music for the film's soundtrack. She continued to make appearances in movies after that, and in 1986 she even launched Dollywood, her own amusement park in Pigeon Forge, Tennessee.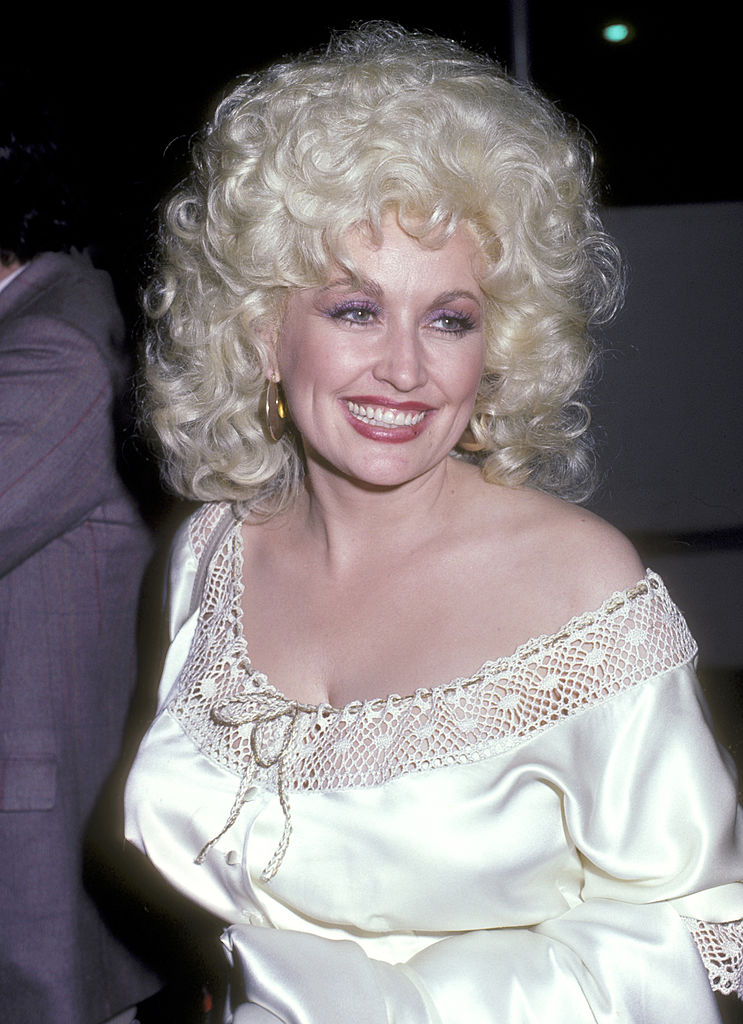 Dolly asserts to have produced over 3,000 songs throughout her lifetime. She has also amassed a record eight Grammy Awards, 25 stints at the top of the country chart, and more than 100 million album sales. And she doesn't appear to be slowing down.
"Almost every day I come up with a few song titles or a sweet melody," Parton mentioned
"I'm 16 in some ways. I'm still a hopeless romantic. But I'm 35 in my spirit and in my mind. When I was 35, it was a pinnacle, a great time in my life – success and happiness and all that. And so I just decided 'I'm gonna claim that number and always be that in my state of mind.'"
Despite the fact that Dolly Parton has ruled the world with her renowned songs, singing, and live performances, she met her true love more than 55 years ago.
In Nashville, Tennessee, in 1964, Dolly and Carl Dean met in front of the Wishy Washy Laundromat. Carl was 21 and Dolly was 18 at the time. Carl could tell right away that the girl was highly exceptional in some manner.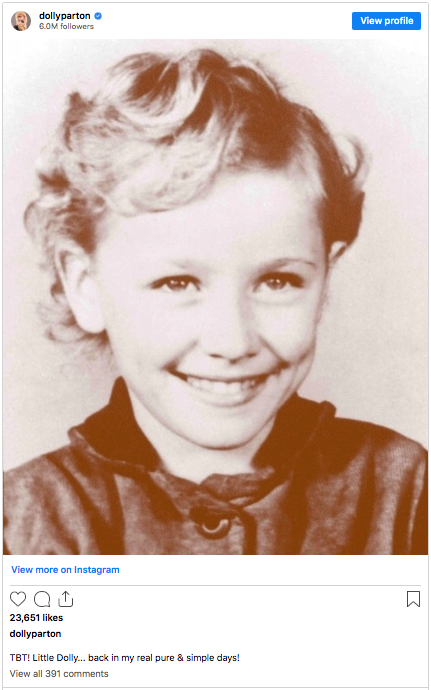 "My first thought was, 'I'm gonna marry that girl,'" Dean said in a statement of the moment they met.
"My second thought was, 'Lord she's good lookin.''' And that was the day my life began. I wouldn't trade the last 50 years for nothing on this earth."
As Dolly described in a 1976 interview with the New York Times, Dean was driving his pickup truck when he saw her and "hollered" at her. She, however, turned down his offer of a date. Instead, a few days later when she was watching her nephew, she invited him over. It was the beginning of a love story that would last forever.
"He came up every day that week and we sat out on the porch. I wouldn't even take him in the house," she said.
"Then my aunt got a day off, and she could keep the kid and that was my first chance to go anywhere with Carl and he drove me straight to his folks' house and introduced me to his mother and daddy. 'Cause he said he knew right the minute he saw me that that's the one he wanted."
Dolly Parton and Carl Dean wed in a quiet ceremony in Ringgold, Georgia, in May 1966.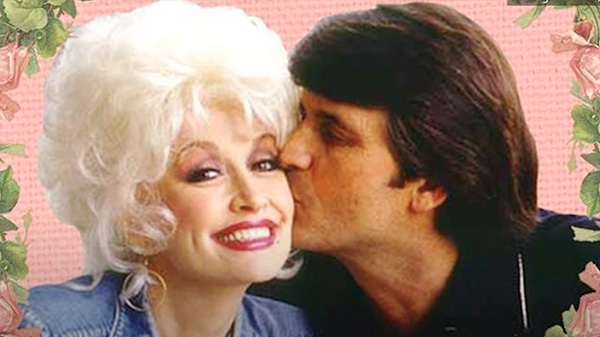 Actually, her record company advised against getting married because she had a job to consider. But Dean and Dolly didn't want to wait, so they made the decision to get married in Georgia rather than Tennessee in order to avoid being covered by the local media there.
The only ones in attendance were Dolly, Carl, and her mother.
"My mother made me a little white dress and a little bouquet and a little Bible," Dolly recalled. "But I said, 'I can't get married in a courthouse because I'll never feel married.' So we found a little Baptist church in town, and went up to Pastor Don Duvall and said, 'Would you marry us?' We got pictures on the steps right outside the church."
Dolly and Carl have been profoundly in love ever since. The only time he ever did so was when his wife won her first songwriting award at the age of 20, and he never walked the red carpet with her at award presentations or charity events.
"After the dinner, we walked back out, and they brought us our car — I don't even remember what we were driving then — and we got in it and headed for home," Parton recalled, as quoted by The Boot. "Carl turned to me and said, 'Dolly, I want you to have everything you want, and I'm happy for you, but don't you ever ask me to go to another one of them dang things again!'"
The couple celebrated their 50th wedding anniversary in 2016. They made the decision to renew their vows in honor of it.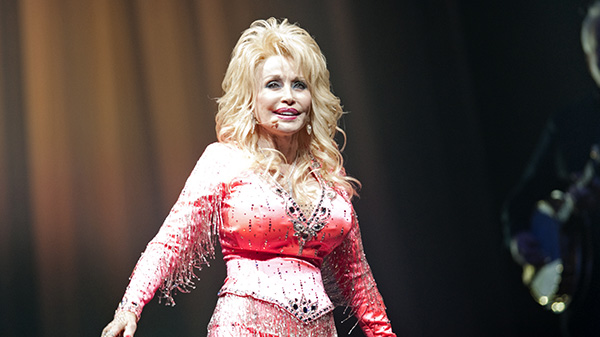 "That was sweet," Dolly Patron told BBC.
"There was no pressure at all. We had our own little ceremony in a little chapel on our property, then we went in our little RV down to Ringgold, Georgia, and spent the night where we had married 50 years before. We took some beautiful pictures and got all dressed up. It was fun really."
"We've always been good buddies. We have a lot of fun and a lot of respect for one another. It was his first marriage and mine and we never thought we'd ever want to do that again. Why bother?"
Dolly Parton has spent her entire life in the entertainment industry, so having her one true love by her side has been beneficial. Today, they essentially have the freedom to do whatever they want, and we genuinely believe they deserve it all.
However, Carl and Dolly did make a choice not to have children. Dolly Parton merely stated that doing so would prevent her from advancing in her career.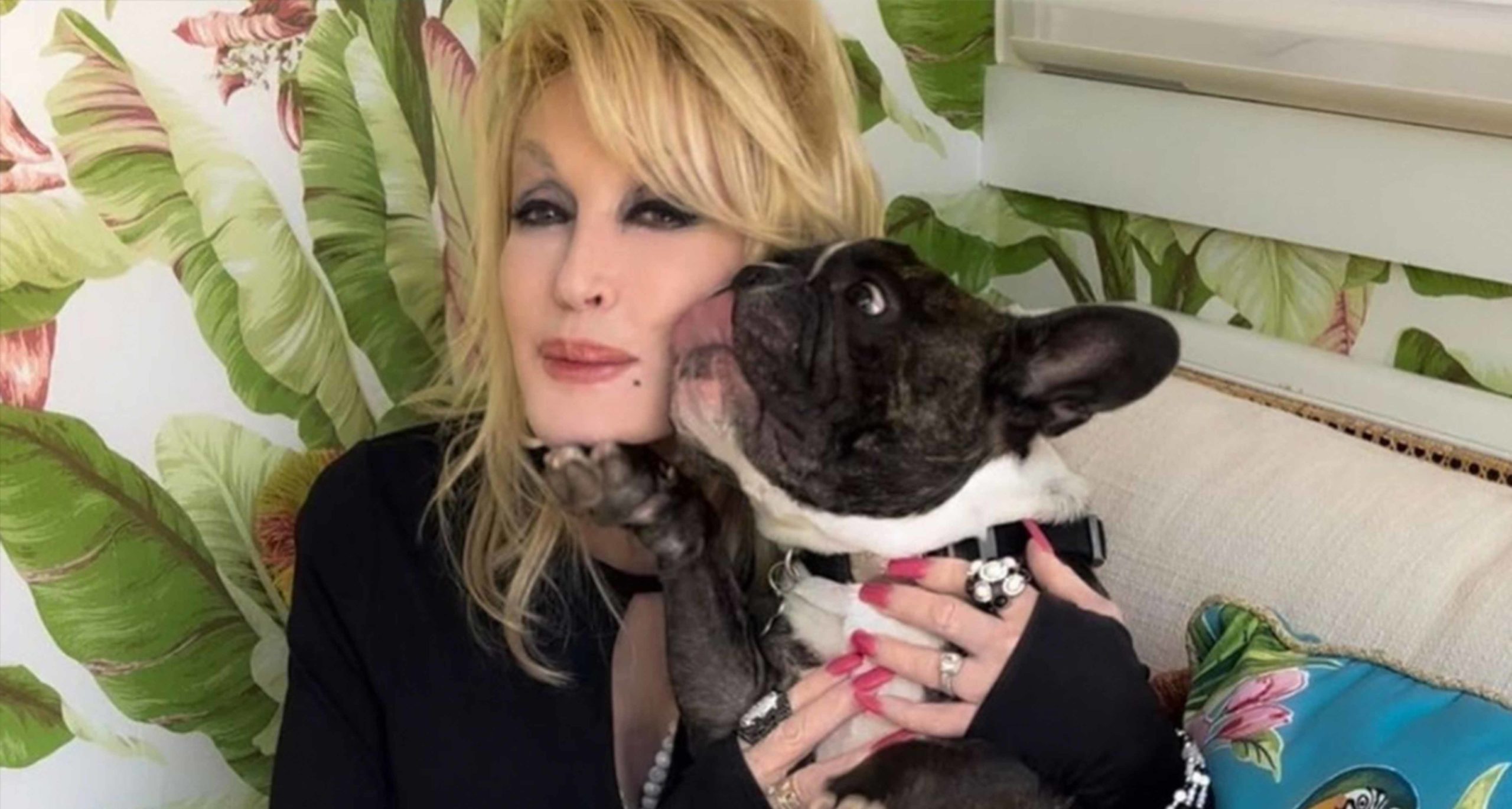 "I've made sacrifices, but I think as I said, I believe what I know I'm supposed to do," Parton told Oprah Winfrey in an interview. "I've made the sacrifice of time… and not having time to spend with family, and you give up family and friends, vacation, and work without end, 24/7, 365, but you got to make the sacrifice."
She revealed to The Guardian that she and Dean have long pondered what the appearance of their offspring would be. Dolly Parton doesn't have any children of her own, yet despite this, she makes every effort to aid those in need. No matter their family's financial situation, children from birth to age five can get free, high-quality books through the Imagination Library project, which was founded by Parton.
As many as 125 million children have participated in the program, according to Parton. She claims that the main idea for starting it came from her father.
"So when I got ready to start the program, I thought I'm going to do this for my dad and I'm going to bring him along with me to help me with that," she said.
"So, he got to live long enough to see it really take off and start doing good, and so he loved it when the kids called me the Book Lady. He was prouder of that than saying that my daughter's a star: 'My daughter's the Book Lady.'"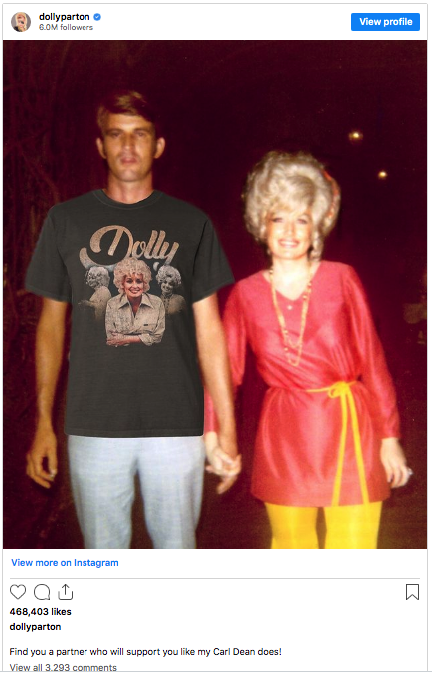 It's simple to assert that Dolly Parton has the resources to assist others. She is estimated to be worth $350 million by Forbes. Dolly Parton and Carl are in the prime of their lives. The popular singer just released a brand-new, extremely rare, never-before-seen photo of the adorable couple on her Instagram page.
In the 1960s, Dolly and Carl are seen holding hands, and of course, she displays her recognizable blonde hair. Fans raved about the adorable duo in the comment section. One aspect, though, was not quite what everybody had anticipated.
In reality, Carl is wearing a clothing that Dolly created herself and had it photo-shopped onto his body.
"Find you a partner who will support you like my Carl Dean does," Dolly wrote in the caption to the photo.
We are really thrilled for Dolly Parton and Carl because they appear to be truly content. We should see Dolly perform once more very soon, hopefully. To commemorate Dolly Parton, share this story with your Facebook friends and family.