On December 23, executive producer for ABC News Dax Tejera tragically passed away at the age of 37. The cause of death wasn't well understood at the time, leaving friends and family members with more questions than answers. Now, some of those queries are being addressed.
Tejera's death was judged an accident by the New York City Office of Chief Medical Examiner on Thursday.
The cause of death was listed as "asphyxia due to obstruction of airway by food bolus complicating acute alcohol intoxication." In other terms, he was drunk and choking on food.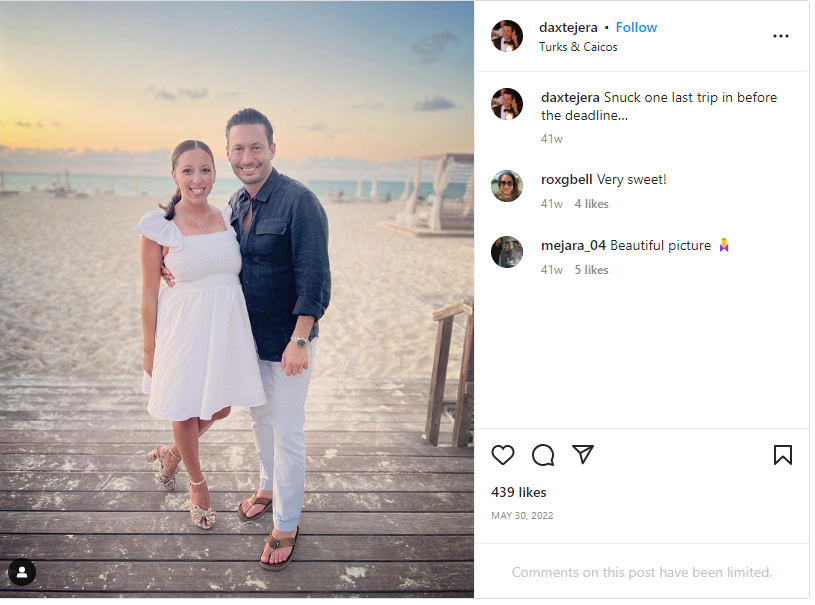 Dax Tejera reportedly had a heart attack while dining out with his wife, according to the initial reports. Tejera left the restaurant and walked outdoors when a waitress inquired about him since he appeared unwell at one point during the outing. He started suffocating to death at that point.
His two daughters, Sofia, 2, and Ella, 7 months old, are left behind by Dax Tejera along with his wife, Veronica Tejera. After learning of his passing, his wife was detained and accused with harming the welfare of two children on two separate counts. Their two girls were abandoned in the hotel room where the couple was staying, it was subsequently discovered.
Veronica gave her account of what transpired the night her husband died on January 3. The mother acknowledged that it was a bad idea for the couple to leave their two children alone in the hotel room while they went out for dinner because they had cameras trained on them and were keeping an eye on them.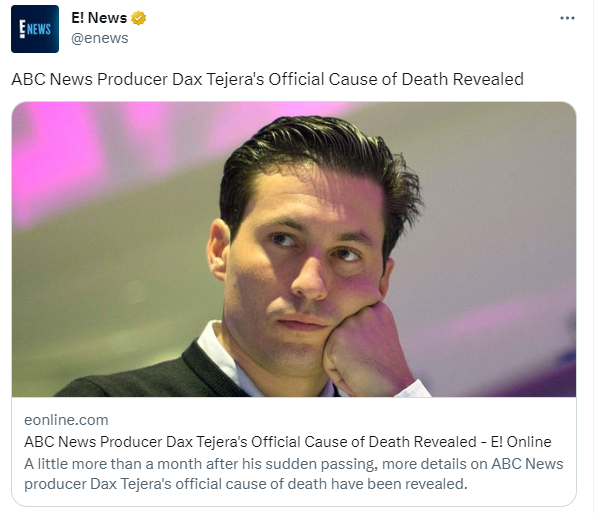 She accompanied the ambulance crew to the hospital after her husband passed out outside. Her parents and a close friend were phoned right away, and she requested that they go check on their two girls in the hotel room. The concierge at the hotel would not let them in when they arrived.
Instead, the hotel employees made a call to the New York Police Department (NYPD), who checked on the kids before arresting Veronica. On January 3, Veronica said, "While the girls were unharmed, I realize that it was a poor decision," calling the entire incident a "terrible tragedy" for her family.
In the hours following the news of his passing, many friends and colleagues took to social media to share their condolences for Dax Tejera and his wife, two daughters, and family. The news was originally shared by Kim Godwin, president of ABC News, who confirmed his death in a memo to ABC News staff.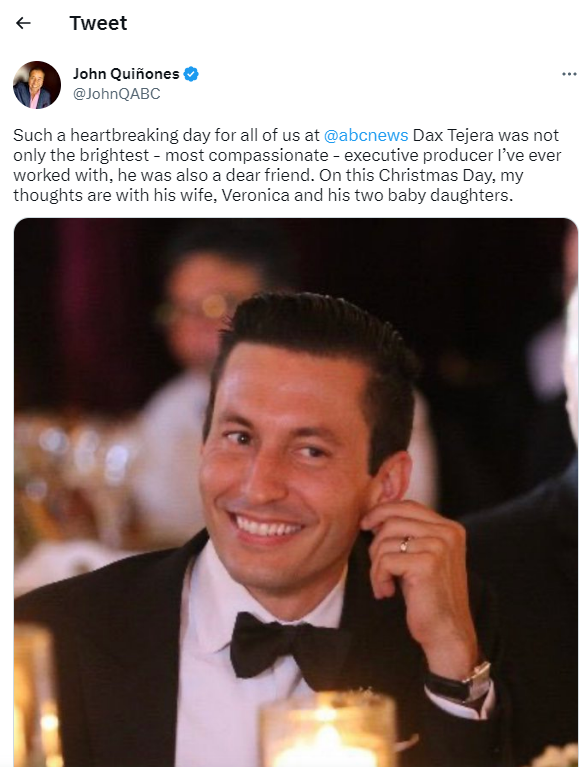 "As EP of This Week with George Stephanopoulos, Dax's energy, passion, and love for that show, ABC News, and you shined every Sunday morning. That same love was extended to his precious girls," she said. "On this Christmas Eve, hug your loved ones a little tighter. And please lean on each other."
Others spoke about his dedication and love on social media. "Dax was a groundbreaking ep. So important to ABC as if not the first Latino, among the first to rise to the executive producer level. I worked with him at fusion and ABC. Always supportive and damn good. I will miss him. And feel for his young family," said Jim Avila.