There isn't much a parent would not do for their child, most of them will tell you if you ask them.
Our lives change in the most profound ways the day we become parents. We acknowledge that the new life we have brought into the world will require all of our attention for the remainder of our time on this planet.
But regrettably, some things are beyond the control of a parent. Accidents and illness are as much a part of life as happiness and celebration are, and every year far too many kids find themselves dealing with circumstances and illnesses that are entirely out of their control.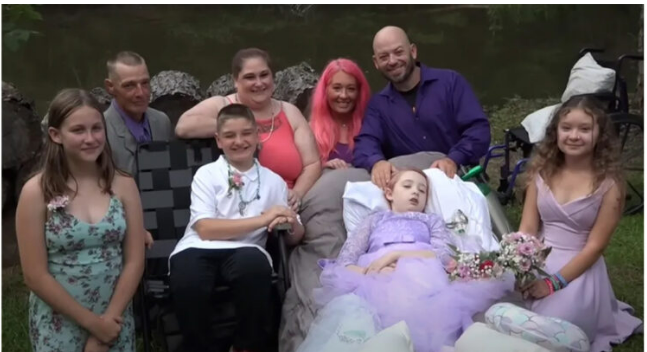 The day Alina and Aaron Edwards received the news that their nine-year-old daughter, Emma, had been diagnosed with acute lymphoblastic leukaemia, their world was forever altered. Despite their evident grief, they clung to the hope that she would defeat cancer, only to be handed a heartbreaking blow when physicians informed them that there was nothing else they could do to prolong Emma's life after a few months.
Emma's distressed parents made the decision to use the remaining time to do everything they could to grant their daughter's requests.
It should be obvious that the vast majority of kids would jump at the chance to meet a celebrity hero in such circumstances, go to Disneyland, or watch their favourite player take the pitch.
Emma wanted something very different, though. She requested permission to wed DJ, who was also only ten years old.
After Sunday, I'll have a tonne more to say and a tonne more people to thank, but right now my brain is just not working, so I'll just leave it at that.
Emma's campaign quickly gained a lot of support from her neighbourhood. The group of volunteers and well-wishers chose the name "Emma's Army" and set out to fulfil this young girl's wishes before she passed away.
The Make-A-Wish Foundation eventually intervened to support Emma's family in raising money. Most children want to visit Disneyland, but Emma wanted to get married, be a wife, and have three children, according to her mother Alina.
According to accounts, the "wedding" was actually not the first time Emma and DJ had attempted a union. When they were eight years old, the two kids attempted to stage a wedding in class. They even chose their respective bridesmaids and groomsmen from among their classmates. Sadly for Emma and DJ, their teacher would not allow the wedding, despite the fact that it was an unofficial event.
However, for their second attempt at a wedding, they gained their parents' blessing and the support of other nice people who wanted Emma to experience her wonderful day.
"We threw it together in less than two days, everything ended up being donated. It was so precious, and it came together so well," Alina revealed.
When the big day arrived, everything was recorded on camera along with interviews from several of the guests, including the DJ, the groom.
"I thought she was the most beautiful person I ever saw. Ever since I loved her," DJ said.
While this was going on, Alina was glowing about her daughter's sweet, young lover. She sent a tearful message on Facebook that said:
"DJ has been Emma's "Boo bear" since 3rd grade, and let me tell you, seeing these babies together will melt your heart. DJ protects her and helps her, and makes her heart soar. She loves him. And I know he loves her too! He has stood beside her through all her ups and downs and kept her smiling the whole time. DJ will forever be family."
On June 29, Emma's special day finally arrived. Her parents pushed her wheelchair as she arrived at the location. She smiled as her father led her down the aisle while donning a stunning purple dress for the occasion.
After exchanging vows and rings, DJ gave his wife a kiss to seal the wedding.
Emma returned to her bed after the wedding to relax, but everyone could see how happy she was to have had her special day.
After fighting for a few weeks, little Emma lost her battle and died on July 11, 2023.
Emma's obituary read: "Emma Brooks Edwards entered heaven and into the loving arms of her Great-grandma Frannie Annie on July 11, 2023, surrounded by those that love her most. Emma was 10 years old and battled "The imposter", Leukemia, for 16 mos. Emma, our little unicorn, was born April 22, 2013, to adoring parents and three older siblings, completing the Edwards family. She loved arts and crafts, practical jokes, her family and friends, Jesus, and her newlywed "husband," DJ. Emma was a light to all who loved her and an inspiration to all she met. She was absolutely the best daughter, sister, granddaughter, niece, cousin, aunt, "wife," lol, and friend. Her legacy is one of strength, humor, and limitless love for all people."
Rest in peace, Emma. Such a beautiful young girl taken far too soon.